So I'll admit it: When I'm in Aruba I have little to no desire to do anything other than lay under a chickee with a good chick read, slathered in sunscreen, and breaking only for a frozen cocktail or a quick dip which more often than not turns into a 2 hour ocean float. While this is wonderful, around day 4 or 5 I tend to get a bit antsy. Shamefully I'll admit that in the last 5 years in Aruba, I had never seen the entire island. I'd only heard rumors of volcanic rock, small mountains, and (gasp!) ocean waves. Until this trip. This time my husband joined the Aruba ranks (Tourists in Aruba seem to go year after year; once you go the Aruba hold takes over you and all other islands cease to exist. While laying on the beach, one of the friends we've made over the last few years came over to us and said to my husband, 'You didn't know that when you married her, you married Aruba'. It's that kind of place). Anyhow, my spouse who cannot sit still brought out my inner adventure and we decided to do a Jeep tour of the island, ending at the Natural Pool, a small water mass within the mountainous area of Aruba, filled with tons of colorful fish. A half day touring Aruba in a jeep with my beloved? Sign me up! Little did I know that Aruba is no ordinary island.
The Rich Part
After putting on our adventure hats and leaving the high rise strip (the only place to stay in my opinion), we toured the high class, super expensive area where no doubt celebrities vacation. I felt it necessary to document.

The Natural Bridge Part
Though part of it collapsed within the last few years, another part was still in tact. Though a nice woman on the tour tripped and fell, dislocating her arm (she saw something shiny, no doubt), I couldn't tear myself away from this amazing land mass, crumbled rock, and raging waves, the latter of which is never seen in the high rise hotel area.


The Almost Dying Part, Part 1
---FOOTAGE NOT FOUND---
This is the part where we climbed a huge mountain of rock and dirt in an open air Jeep. Since I was hiding my face and begging one of the girls in back of us to split her Xanax with me, please understand why there are limited photos. Mountains of rock, dirt flying at me, tires spinning, and many heart palpitations later, we made it to the Natural Pool where we snorkeled and got splashed with waves coming over giant rocks.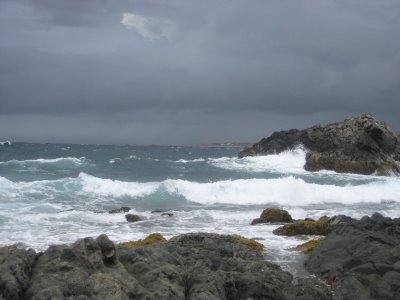 Though this seemed like little payoff for the panic I'd endured and would be faced with again a mere 30 minutes later, it was fairly serene and a very cool natural element on the island.
The Almost Dying Part, Part 2
While I enjoyed cooling off in the Natural Pool, the ride back through the rocky madness was looming. More climbing of rocks, panic, and dirt flying. Though I was begging for it all to end, a sweet, old Asian woman in the jeep ahead of us seemed to be having a rockin' good time as she waved to us repeatedly as we all climbed the rocks. I figured if she could swing it, so could I.

I Made It!
While I am particularly weak when it comes to the type of adventure that could cause bodily harm, I had fun. I also may have slightly exaggerated about the almost dying part. I think most of it was safe. Maybe.
I saw some great parts of my beloved Aruba, spent the morning with S, and even felt like an adventurous traveler! As my dad would say, it let me know I'm alive. Would I do it again? Probably not. Though I did get to take a photo with this fab (and real!) background.