Last night was a good night.
Shaun & me at a Giants game in 2010
The Giants are going to the Superbowl! I feel like celebrating.
Maybe with some popcorn mix...
...or red & blue cake!
But since it's Monday, I suppose I shouldn't. I'll save it for the Superbowl (!!!) in 2 weeks! We had a great time watching the game in all of its nail biting, shoulder tensing, stomach aching glory.
And you know I made a few other snacks in celebration! After seeing How Sweet Eat's roasted grape & goat cheese sweet potatoes, I knew that I had to adapt this flavor somehow. Roasted grapes simply sounded A-mazing! And so I did.
I used the DIY tortilla idea, but adapted it even further as suggested by my mom. I made the tortilla rounds slightly larger so that they became more Tostitos-scoops like, pinching the sides to fit them in the mini-muffin tin. Imagine the possibilities with this idea! I can think of 1.1 million fillings for these little low carb tortilla bites.
I filled these guys with roasted grapes, goat cheese and a drizzle of honey. The result? Sweet and tangy bites that were a perfect game day (or anytime!) snack! And at 4 WW Points Plus for 4 bites, you really can't go wrong.
Roasted Grape & Goat Cheese Bites
Yields 6 servings, 4 bites per serving
4 WW Points Plus per serving (or 1 PP per bite!)

1 recipe DIY tortilla chips, made into slightly larger rounds & pinched in the pan to make little cups
2 C red seedless grapes
4 oz. goat cheese
1 Tbsp honey
cooking spray
kosher salt
Make the tortilla chips and set aside, leaving them in the muffin tin to cool. Meanwhile, preheat your oven to 400 degrees. Line a baking sheet with foil, spray with cooking spray. Add the grapes. Spray them lightly with cooking spray and sprinkle with just a tiny bit of kosher salt.
Roast 'em up for about 20 minutes, or until they are squishy and smelling yummy.
Meanwhile, fill up the tortilla cups with about 1/2 tsp goat cheese each. When the grapes are finished, lower the oven heat to 350 and add a few grapes to each cup and top with a small dollop of honey. Bake for 10 minutes. Serve immediately. Beware of extrememly hot grapes!
Yum!
I really loved this little appetizer. It's delicious! I hope you give it a try and enjoy it! It's also perfect for the Superbowl and so I'm including it in Kelly's Skinny Superbowl Snacks! Head over to her site for some great snack ideas for the big game!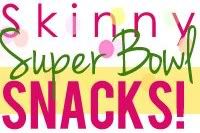 Have a great week everyone!
Questions of the Day:
What's your favorite appetizer?
What did you do this weekend?
psst...I reorganized another bathroom cabinet! Read about my strategy on The Peach & The Pit!